Pleiotropic Metformin Derivatives
Numerous studies have shown that type 2 diabetes (T2DM) is associated with thrombosis and the activation of blood coagulation. In addition, the diabetic state is characterized by an impaired balance between the processes of coagulation and fibrinolysis, known as diabetic thrombophilia. Most newly-diagnosed patients with T2DM are placed on metformin, an oral glucose-lowering drug, which also has beneficial effects on the cardiovascular system. Metformin can positively affect endothelial function, protect from oxidative stress and inflammation, and inhibit the proliferation of smooth muscle cells.
Our research collaboration with Dr. Magdalena Marcowicz-Piasecka at the Medical University of Lodz (Poland) aims to evaluate the effects of metformin and its novel sulfenamide and sulfonamide derivatives produced at the UEF on selected parameters of haemostasis, including:
1. Plasma Haemostasis (e.g., overall haemostasis potential, extrinsic and intrinsic coagulation pathway, activity of coagulation factor)
2. Vascular Function (e.g., function, viability, and adherence of endothelial cells, the release of coagulation factors from ECs, the proliferation of smooth muscle cells)
3. Platelets Haemostasis (e.g., platelet aggregation, adhesion, thrombus formation in semi-physiological conditions)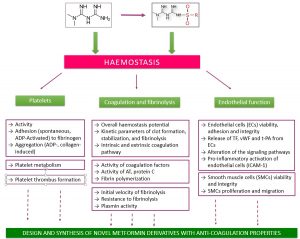 Metformin has also been reported to play an important role in the treatment of Alzheimer's Disease (AD). Therefore, our secondary aim is to assess the effects of metformin and its novel sulfenamide and sulfonamide derivatives on the activity of human AChE and BuChE and to establish the type of inhibition to provide greater insight into the more rational design of potential cholinesterase (ChE) inhibitors with a biguanide skeletal structure. Moreover, metformin has also found to act synergistically with donepezil, which might have potential in preventing brain disorders associated with diabetes complications in the future or might provide an additional rationale for the clinical benefit for AD subject suffering simultaneously from T2DM. Therefore, novel metformin derivatives are also explored for their potential synergism with other clinically approved anti-AD drugs.

We are also trying to identify the possible transport mechanisms of novel metformin derivatives, and build up structure-activity relationships (SARs), as it is already known that metformin can interact with organic anion transporters 1-3 (OCT1-3), multidrug toxin and extrusion 1-2 (MATE1-2), plasma membrane monoamine transporter (PMAT).
Selected Publications
Effects of Metformin and Its Derivatives on Haemostasis 
Markowicz-Piasecka, M.; Sadkowska, A.; Sikora, J.; Broncel, M.; Huttunen, K. M. Novel Sulfonamide-based Analogs of Metformin Exert Promising Anti-Coagulant Effects Without Compromising Glucose-Lowering Activity. Pharmaceuticals, 2020, 13(10): 323-351. https://doi.org/10.3390/ph13100323
Markowicz-Piasecka, M.; Sikora, J.; Zajda, A.; Huttunen, K. M. Novel Halogenated Sulfenamide Biguanides with Anti-Coagulation Properties. Bioorganic Chemistry, 2020, 94: 103444. http://doi.org/10.1016/j.bioorg.2019.103444
Markowicz-Piasecka, M.; Huttunen, K. M.; Sadkowska, A.; Sikora, J. Pleiotropic Activity of Metformin and Its Sulfonamide Derivatives on Vascular and Platelet Haemostasis. Molecules, 2020, 25 (125): 1-24. http://doi.org/10.3390/molecules25010125
Markowicz-Piasecka, M.; Huttunen, K. M.; Broncel, M.; Sikora, J. Sulfenamide and Sulfonamide Derivatives of Metformin – A New Option to Overcome Endothelial Dysfunction and Blood Coagulation. Scientific Reports, 2019, 9 (1):6573-6592. http://doi.org/10.1038/s41598-019-43083-z
Markowicz-Piasecka, M.; Huttunen, K. M.; Mateusiak, Ł.; Mikiciuk-Olasik, E.; Sikora, J. Sulfenamide and Sulfonamide Derivativess of Metformin Can Exert Anti-Coagulant and Pro-Fibrinolytic Properties. Chemico-Biological Interactions, 2018, 284, 126-136. http://doi.org/10.1016/j.cbi.2018.02.012
Markowicz-Piasecka, M.; Huttunen, K. M.; Mikiciuk-Olasik, E.; Sikora, J. Biocompatible Sulfenamide and Sulfonamide Derivatives of Metformin Can Exert Beneficial Effects on Plasma Haemostasis. Chemico-Biological Interactions, 2017, 280, 15-27. http://doi.org/10.1016/j.cbi.2017.12.005
Markowicz-Piasecka, M.; Sikora, J.; Mateusiak, Ł.; Mikiciuk-Olasik, E.; Huttunen, K. M. New prodrugs of metformin do not influence the overall haemostasis potential and integrity of erythrocyte membrane. European Journal of Pharmacology, 2017, 811, 208-221. http://doi.org/10.1016/j.ejphar.2017.06.011
Metformin and Its Derivatives as Potential Inhibitors of Cholinesterases
Markowicz-Piasecka, M.; Huttunen, K. M.; Sikora, J. Metformin and Its Sulfonamide Derivative Simultaneously Potentiate Anti-Cholinesterase Activity of Donepezil and Inhibit β-Amyloid Aggregation. Journal of Enzyme Inhibition and Medicinal Chemistry, 2018, 33 (1), 1309-1322. https://doi.org/10.1080/14756366.2018.1499627
Markowicz-Piasecka, M.; Sikora, J.; Mateusiak, L.; Mikiciuk-Olasik, E.; Huttunen, K. M. Metformin and Its Sulfenamide Prodrugs Inhibit Human Cholinesterases Activity. Oxidative Medicine and Cellular Longevity, 2017, 7303096. https://doi.org/10.1155/2017/7303096 
Metformin and Its Derivatives as Potential Anti-Cancer Agents
Markowicz-Piasecka, M.; Sadowski, K.; Huttunen, J.; Sikora, J.; Huttunen, K.M. Incorporation of Sulfonamide Moiety into Biguanide Scaffold Results in Apoptosis Induction and Cell Cycle Arrest in MCF-7 Breast Cancer Cells. International Journal of Molecular Sciences, 2021, 22(11): 5642. https://doi.org/10.3390/ijms22115642
Markowicz-Piasecka, M.; Komeil, I.; Huttunen, J.; Sikora, J.; Huttunen, K. M. Effective cellular transport of ortho-halogenated sulfonamide derivatives of metformin is related with improved antiproliferative activity and apoptosis induction in MCF-7 cells. International Journal of Molecular Sciences, 2020, 21, 2389-2417. https://doi.org/10.1016/j.bioorg.2019.03.036
Markowicz-Piasecka M, Huttunen J, Sikora J, Huttunen KM. Sulfenamide derivatives can improve transporter-mediated cellular uptake of metformin and induce cytotoxicity in human breast adenocarcinoma cell lines. Bioorganic Chemistry, 2019, 87, 321-334. http://doi.org/10.1016/j.bioorg.2019.03.036