Do you have doctoral studies, Ph.D. plans but do not know what to do after your master's degree studies?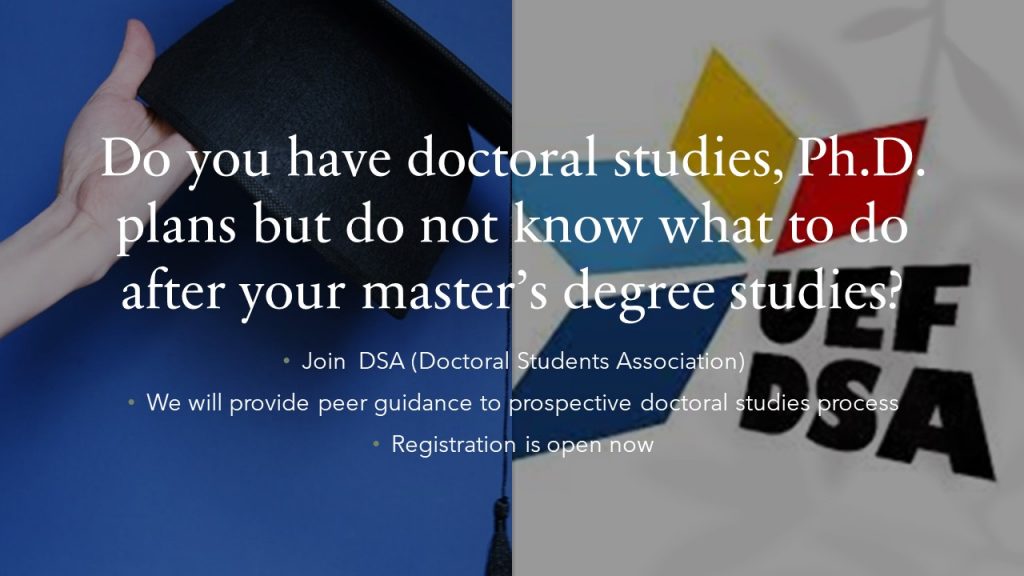 Are you motivated to be a researcher or want to have a career in academia?
Do you need more guidance on applying doctoral studies at University of Eastern Finland? Doctoral studies ambassadors will Guide you!
Doctoral studies ambassadors are students of the Doctoral Students Association at the University of Eastern.
Aims
Your ambassadors are here to provide peer guidance to prospective doctoral studies students' application process. We are here to educate applicants by answering questions regarding doctoral studies, doctoral students' life, and networking. Our programmes are aimed to organise events to encourage, give practical assistance, ideas about applying and studying to prospective doctoral studies students at UEF based on experiences.
Registration
Register by filling out this form.
Choose "Associate Member" option.
In point 6 of the form, write your purpose of joining DSA.
Membership fee is 10 Euro (for lifetime).
For any further information:
evekarkk@student.uef.fi.
hasan.sohail@uef.fi