Expanded reality for minimally invasive and image-guided surgery
Minimally Invasive Surgery (MIS) is becoming a preferred choice of surgeons in many surgical specialties. Still, MIS has posed significant challenges in terms of narrow surgical corridors and depth perception of anatomic structures. Using the high magnification features of surgical devices and existence of surgical instruments in the surgical view exacerbate these challenges and result in highly restricted surgical views for surgeons.
Our team is developing ER4Surgery, a software solution powered by processing multiple video feeds of surgical scenes with a custom algorithm pipeline. Our goal is to provide an Expanded Reality (ER) capability for the whole surgical field through which surgeons could work over the areas of interest with a high zoom function and simultaneous visualization of the adjacent structures.
Team is a member of SPARK Finland mentoring program in fall 2022 batch.
COMPETITIVE ADVANTAGES
•Expansion of surgical field of view in image-guided and MIS without causing interruptions in the workflow
•Automated calibration in response to varying angles and alignments of the operator camera
•Real-time video mosaicking and image distortion management
•Optimal solution for a variety of surgical specialties across primary to tertiary care, including neurosurgery, ENT, ophthalmology, orthopedic, gastroenterology, gynecology, and plastic surgery
-Applicability to use cases beyond surgery
SEARCHING FOR
•Mentoring for presenting benefits of the solution to different stakeholders
•Collaborations for feasibility studies with potential end users in hospitals and clinics
•Inputs from industrial partners to push our invention towards commercialization
•Partnerships with manufacturers of surgical microscopes and other image-guided operating devices, intra-operative navigation software, digital surgical platforms, and computer-assisted surgery
Team Members:
Ahmed Hussein, MD, Ph.D., Specialist in Neurosurgery, Microsurgery center of Eastern Finland, Kuopio University Hospital
Mastaneh Torkamani Azar, Ph.D., Post-doc researcher, PoC project Leader 2022, Signal Processing, Interactive Technologies Research Group, School of Computing, UEF
Zunaira Jamil, MSc in Medical Physics. Working for PoC project 2022: , Algorithm implementation and Surgical research technology reviews.
Paavo Vartiainen, Ph.D., Post-doc researcher, Algorithm development, SPARK team lead, Department of Applied Physics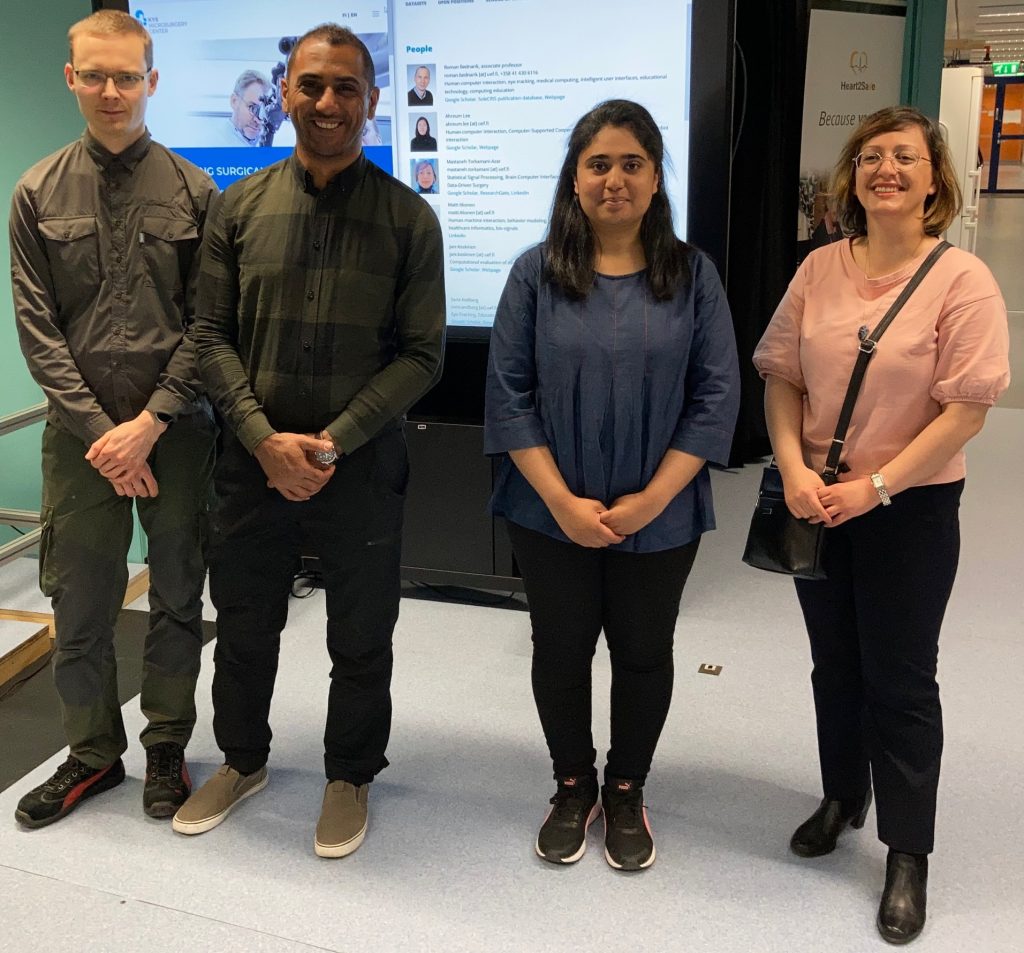 Senior members:
Pasi A Karjalainen, Professor in Signal and Image Processing. Experienced in research commercialization
Roman Bednarik, Assoc. Prof. Expert in eye tracking & human-computer interaction. Head of Interactive Technologies research group (uef.fi/int), School of Computing, UEF.
The team is currently utilizing HUMEA Lab and Microsurgerycenter facilities on Savilahti campus.