Clinical Drug Research – Brain Research Unit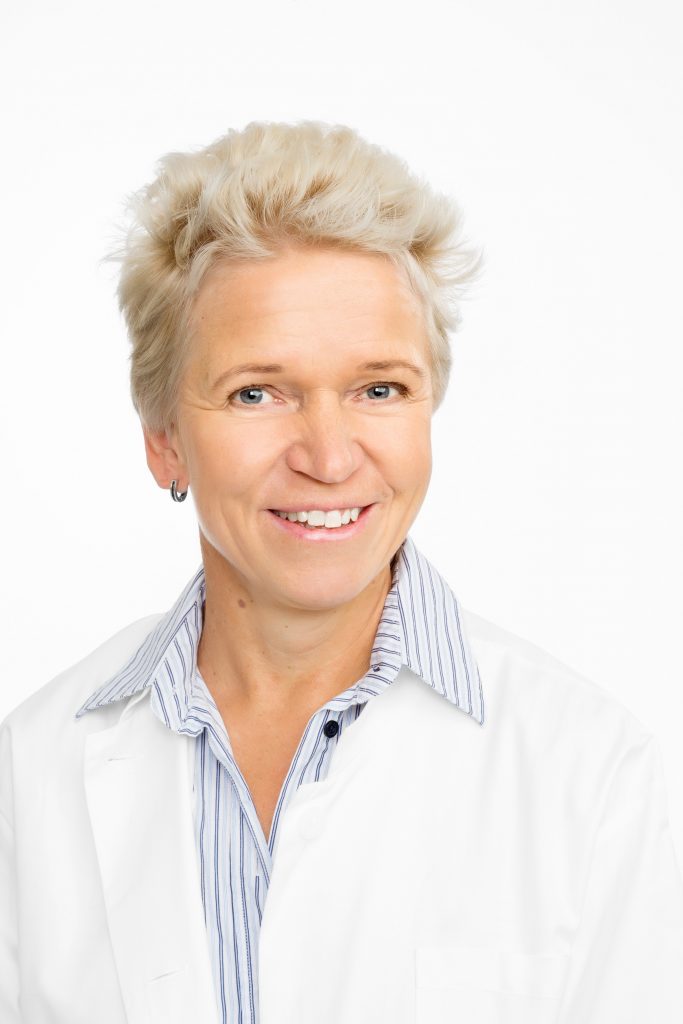 Merja Hallikainen
Clinical Research Director
University of Eastern Finland
School of Medicine
Institute of Clinical Medicine – Neurology,
Brain Research Unit

Yliopistonranta 1B, 70210 Kuopio, Finland
+358 40 567 84 33
merja.hallikainen (at) uef.fi
Major Research and Clinical Interests
Epidemiology, prevention, diagnostics and therapy of Alzheimer's disease
Aging
Neurodegenerative disorders
Current Position
Clinical Research Director, Brain Research Unit, UEF 2002 –
Consultant physician of The Social Insurance Institution (KELA) August 2005 –
Academic Degrees
MD, University of Eastern Finland
Special qualification in Insurance Medicine, August 2009
Special qualification in Memory disorders, June 2018
Clinical Trial Experience
Participation in the phase II-IV of several clinical drug trials (over 100) on Alzheimer's disease, vascular and mixed dementia, mild cognitive impairment, migraine, RLS, MS and Parkinson's disease as investigator/principal investigator since 1992.
Selected Publications
Soininen H, Solomon A, Visser PJ, Hendrix SB, Blennow K, Kivipelto M, Hartmann T. 24-month intervention with a specific multinutrient in people with prodromal Alzheimer's disease (LipiDiDiet): a randomised, double-blind, controlled trial. LipiDiDiet clinical study group. Lancet Neurol. 2017 Oct 30. pii: S1474-4422(17)30332-0.
Rinne JO, Wesnes K, Cummings JL, Hakulinen P, Hallikainen M, Hänninen J, Murphy M, Riordan H, Scheinin M, Soininen H, Rouru J. Tolerability of ORM-12741 and effects on episodic memory in patients with Alzheimer's disease. Alzheimers Dement (N Y). 2016 Dec 8;3(1):1-9.
Westwood S, Liu B, Baird AL, Anand S, Nevado-Holgado AJ, Newby D, Pikkarainen M, Hallikainen M, Kuusisto J, Streffer JR, Novak G, Blennow K, Andreasson U, Zetterberg H, Smith U, Laakso M, Soininen H, Lovestone S. The influence of insulin resistance on cerebrospinal fluid and plasma biomarkers of Alzheimer's pathology. Alzheimers Res Ther. 2017 Apr 26;9(1):31.
Pentikäinen H, Ngandu T, Liu Y, Savonen K, Komulainen P, Hallikainen M, Kivipelto M, Rauramaa R, Soininen H. Age Cardiorespiratory fitness and brain volumes in men and women in the FINGER study. Age Ageing. 2017 Mar 1;46(2):310-313.
Muñoz-Ruiz MÁ, Hall A, Hallikainen M, Soininen H, Hartikainen P. Using the Disease State Fingerprint Tool for Differential Diagnosis of Frontotemporal Dementia and Alzheimer's Disease. Dement Geriatr Cogn Dis Extra. 2016 Jul 22;6(2):313-329. eCollection 2016 May-Aug.
Haapalinna F, Kokki M, Jääskeläinen O, Hallikainen M, Helisalmi S, Koivisto A, Kokki H, Paajanen T, Penttinen J, Pikkarainen M, Rautiainen M, Soininen H, Solje E, Remes AM, Herukka SK. Subtle Cognitive Impairment and Alzheimer's Disease-Type Pathological Changes in Cerebrospinal Fluid are Common Among Neurologically Healthy Subjects. J Alzheimers Dis. 2018;62(1):165-174. doi: 10.3233/JAD-170534.