Projects
Next generation sensory monitoring for improving microsurgical skills and performance 2020-2024
Eye-hand coordination is a central skill in manual tasks and has so far been vastly neglected by interactive medical technologies research. In clinical domains of microsurgery,  microsurgical remote assistance, and microsurgical training, our translational research team will develop a deep and fundamental understanding of eye-hand coordination skills through intelligent sensing, monitoring, and computation in direct and remote intraoperative and training environments. We will provide predictive models of the eye-hand coordination skills in these domains, and this knowledge will inform designs of new actionable models, paradigms and technologies for implementation and actuation in augmentative technologies for intraoperative use and for skill training and assessment programs.
Academy of Finland, grant #334658
Sensorimotor Prosthetics for Future Interactive Surgical Systems (FIRST) 2016 – 2018
Principal investigator: Roman Bednarik
The FIRST project creates foundations for our long-term goal, creation of what we call sensorimotor prosthetics, which are the substitutive and supportive technologies for indirect interaction contexts. These technologies are based on systems and models that enable understanding and interpretation of human action in specific contexts. Here, we join forces between interactive technologies research and neurosurgical clinical research to develop understanding of sensorimotor perception and action in image-guided surgeries, as the prime representatives of indirect manipulation tasks.
Academy of Finland, grant #305199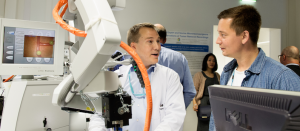 Gaze in Medical Optical Technologies 2016-2017
Principal investigator: Roman Bednarik
G4M (Gaze for Microscopes) The TUTL project provides new research and business modeling opportunities for the production and exploitation of embedded eye tracking technology in a commercial environment. The relevant research data produced in the G4M project promotes the scalability of technology for competitive customer solutions to increase efficiency in industry and healthcare and the emergence of a new growth business.
Finnish Funding Agency for Innovation, TEKES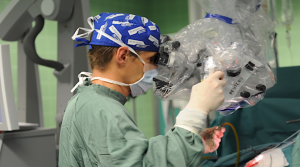 Improving programming education through understanding of reading strategies from large datasets (2016-2017)
Principal investigator: Roman Bednarik
The mobility project supports coordination of international research activities in developing effective programming education interventions based on large datasets of eye-movement data (EMIP). Two leading groups from UEF, Freie Universitat and Universitat Paderborn are advancing what is considered the most difficult part of computing education – namely, helping novice programmers in first steps of computing education.
Academy of Finland, grant #297964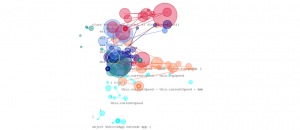 Eye-tracking and Intelligent Interfaces
Expertise and Engagement in Collaborative Tasks: Modeling and Support using Eye-Movement Tracking (Academy of Finland)
Principal investigator: Roman Bednarik
This Academy of Finland funded project seeks to develop new methods to analyze and employ eye-movement tracking in collaborative contexts. We study how engagement and other aspects of collaboration can be predicted from the behavioral data and later supported by intelligent proactive interfaces.