Services
Histology laboratory services for teaching and research.
Processing of tissues/cells into paraffin/plastic blocks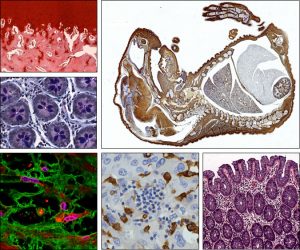 Smear samples
(Ice sections)
FTIR samples
Polarization microscopy samples
Orienting the samples correctly
Sectioning (3 µm-)
Stainings:
Histological stainings
Immunohistological stainings
Immunofluorescence stainings
Special stainings
bHABC
Staff
Eija Rahunen, Senior laboratory technician
Kari Kotikumpu, Senior laboratory technician
Contacts
Institute of Biomedicine
Snellmania building, 3rd floor, room Sn 3245
University of Eastern Finland, Kuopio campus
E-mail:
eija.rahunen (at) uef.fi
kari.kotikumpu (at) uef.fi
Phone: 044-716 3023

Equipment
Automated tissue processor (Shandon)
Embedding console system (TissueTek)
Two microtomes (Historange and Micron)
Automated staining platform (Sakura)
Pricing
We offer our services to users from both the UEF and outside of it. For pricing, please email our staff.