Electrical tomography laboratory
Electrical tomography laboratory (ETL) is equipped with tomographic imaging devices, phantoms and accessories for imaging pipes, tanks, stirring vessels as well as cement-based materials and structures, ground, and human body. The tomographic devices are mainly based on electromagnetic interaction with the object, but also some other techniques, such as thermal stimulation are used. Some of the devices are in-house made and some of them are commercial. In the following sections, a brief description of the ETL's equipment is given.
Process tomography
Process tomography section of the lab is equipped with tomography measurement systems and process simulators. The equipment can be used to examine various process applications such as multiphase flows, mixing and separation, and for the assessment of the condition of concrete and other solid structures.
The flow pipe process simulator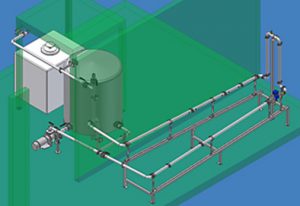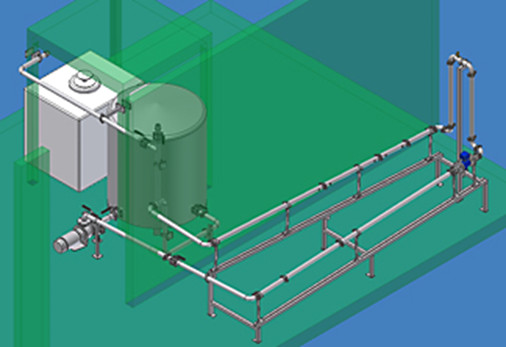 The flow pipe process simulator can be used to simulate, for example, liquid – liquid and liquid – gas mixing applications. The flow pipe system consists of a tank, a circular tube, an impedance tomography measurement device and conventional process measurement and control devices. The pipe type is DN50. The inner diameter of the pipe is 56.3 mm and the material is EN 1.4404 (316L) stainless steel. The length of the circular flow pipe is 22.0 m. The circular flow pipe system is constructed on curvature and straight pieces with standard lengths between 0.5 and 2.0 m.
Standard G1/2" process connectors are located at both ends of the straight tube. This allows to select the location for injection or temperature/pressure measurements. It is also possible to use clear acrylic tubes (0.5 – 2.0m) instead of steel pipes to make visual observations.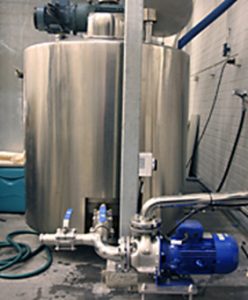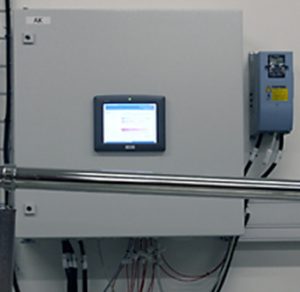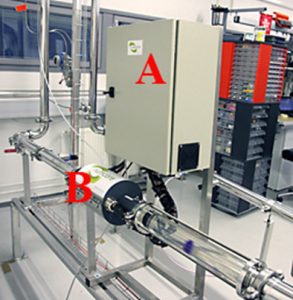 Other tomography devices of the electrical tomography laboratory
KIT4 Electrical impedance tomography measurement system
KIT4 is the latest EIT-device designed and constructed at the Department of Technical Physics. KIT4 EIT-device has 80 parallel voltage measurement channels and 16 parallel current injection channels. The maximum frame rate is 100 frames/second using 16 measurement channels. More detailed information about the KIT4 –device can be found in this publication.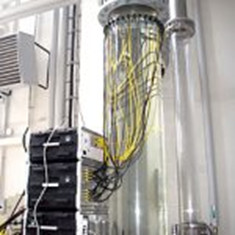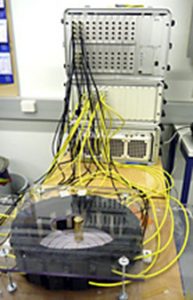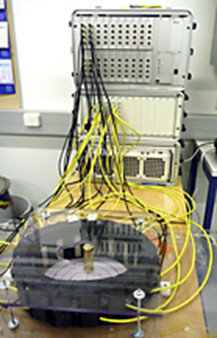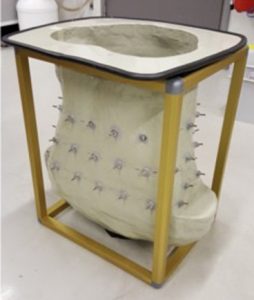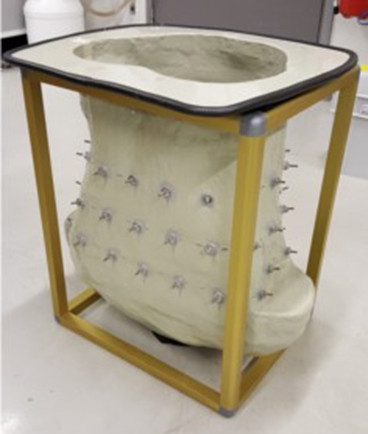 KIT3 Electrical impedance tomography measurement system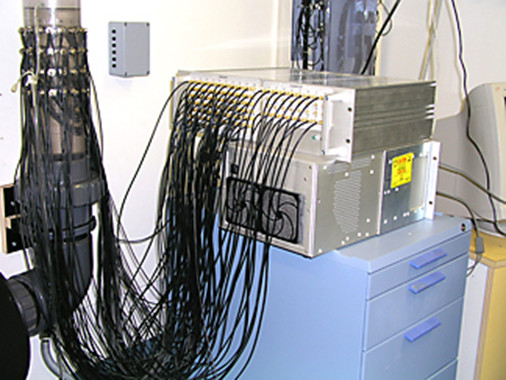 KIT2 Electrical impedance tomography measurement system
Thermal tomography measurement system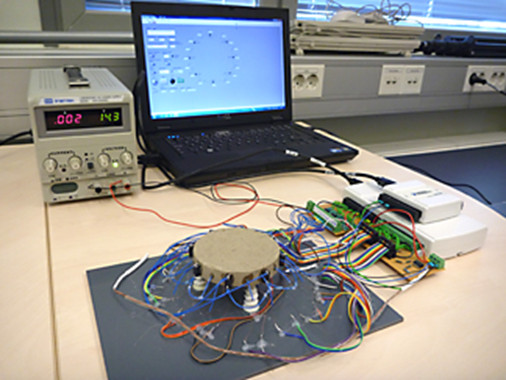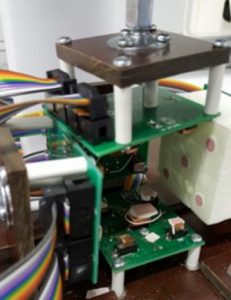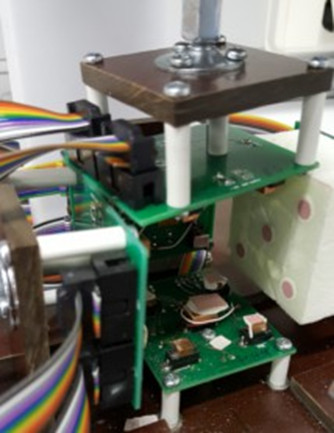 CoreApus Spectroscopic electrical impedance tomography measurement system
CoreApus has 8 parallel (or 60 semiparallel) injection channels and 60 parallel measurement channels. The system is originally supplied with a flow pipe sensor (5 electrode ring *12 electrode each), but can be used with sensors of other kind, too. The system supplier is Numcore Ldt (Outotec).
Electromagnetic flow tomography (EMFT) measurement system
Electromagnetic flow tomography is an emerging imaging modality for estimating velocity fields of conductive flowing fluids in pipes. The approach behind the EMFT is the creation of magnetic field into the pipe flow, causing an electric field inside the pipe due to the moving charges. This electric field, or potential distribution, can be measured on the inside boundary of the pipe using a set of electrodes. In our lab, we have designed and built an EMFT system including four excitation coils with 16 voltage measurement electrodes. With the setup, we can estimate 2D velocity fields of conductive fluid flows in process pipes.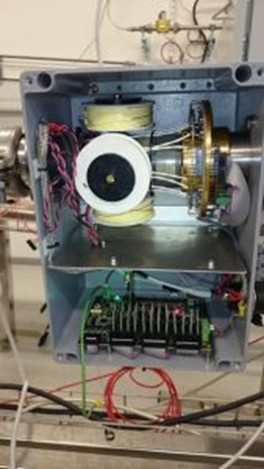 Other systems used in the electrical tomography laboratory
SIPFIN Spectral induced polarization measurement system
SIPFIN system is modified from a commercially available SIP256 –system. The modified system allows the user to make voltage measurements also on the electrodes connected to the current injection channels. SIPFIN also has larger voltage measurement range than the standard system.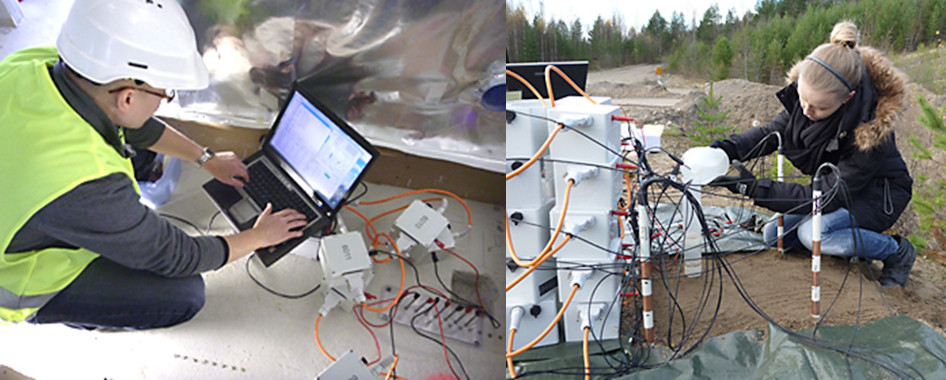 Datain Data infusion system (program and hardware)
Datain provides systematic savings of information from the flow pipe loop and CoreApus EIT –devices. The system also provides analysis and visualization of measurement results. The system supplier is Kuava Oy.
PTL300E Electrical capacitance tomography system
PTL300E is a commercially available Electrical Capacitance Tomography system from Process Tomography Ldt.
SRS830 DSP lock-in amplifier
CCommercially available lock-in amplifier can also be used for an accurate phase EIT-measurement when connected to a separate current source. SRS830 manufacturer is Stanford Research Systems. DSP lock-in amplifier and a constant current source form a simple spectroscopic impedance measurement system.
Hioki 3532-50 LCR –HiTester
Hioki can be used for example to measure the impedance spectrum of calibration targets. The frequency range is 42Hz-5MHz. Device manufacturer is HIOKI Corporation. The laboratory equipment comprises a large number of commercially available measurement devices, tools and materials.