Thermal Tomography
Thermal tomography is a novel diffuse imaging technology which produces 3D images of the thermal conductivity, heat capacity and surface heat flux coefficient parameters based on transient temperature measurements at the target surface in response to short period heatings of the target surface. Thermal tomography can be used for characterization of thermal properties of complex structures and for non-destructive testing of targets that withstand moderate temperature changes. The testing can potentially reveal cracks, voids, delamination faults, air bubbles and other manufacturing defects. Our objective is to develop prototype measurement system and computational methods of thermal tomography, and carry out practical feasibility studies of the new imaging technology.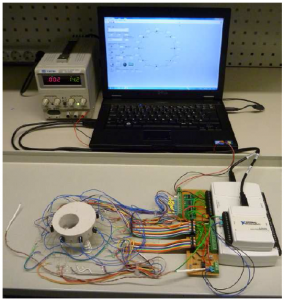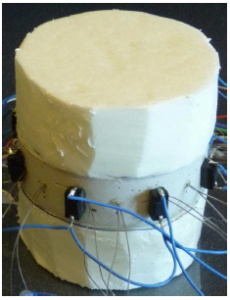 Figure: Left: Prototype measurement system. Right: Measurement of a mortar disk with a cylindrical (air) defect. The top and bottom surfaces of the target are insulated with styrofoam, leading to (approximately) zero flux at the top and bottom surfaces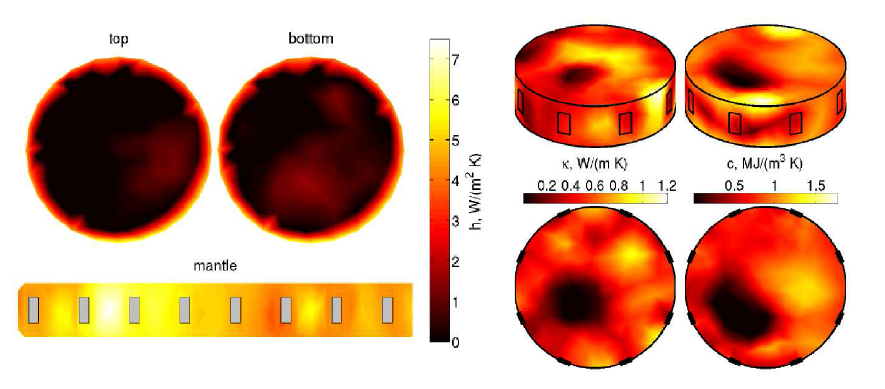 Figure: Results. Left: Surface heat flux coefficient (gray patches denote the locations of the heating elements). Right: Estimates of the heat conductivity and heat capacity.
Contact
Past and present collaborators
Professor Helcio Orlande, University Federal de Rio de Janeiro, Department of Mechanical Engineering.