I'm from South Africa, and here I find myself studying in a beautiful, understated German city. Freiburg I'm Breisgau was actually not one of my first choices of universities at which to do my masters. When the time came to select which university we wanted to go to for our Master's thesis, I was certain that I wanted to choose Spain. However, circumstances led to me eventually choosing the Albert-Ludwigs University of Freiburg instead, even though I had never set foot in the city of Freiburg im Breisgau. What I did not know then was just how amazing this little city is, and how lucky I am to have ended up here!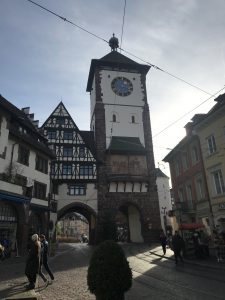 The city itself is defined in Germany as a "mini-city", meaning it's population is just larger than a town, and yet smaller than a major city (e.g. Frankfurt, Berlin, Hamburg). Situated in Baden-Wurttemberg state, in southwestern Germany. It is picturesquely situated on the western slopes of the Black Forest, where the Dreisam River flows into the Rhine valley. Much like the rest of Germany, much of the infrastructure and historical buildings in the city were destroyed during destructive bombing campaigns of World War II, but the city retains many beautiful historic buildings – either restored or rebuilt in the old style that existed before.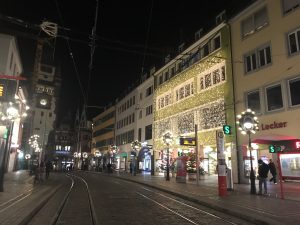 For any person walking through the Alstadt (Old Town), this brings a sense of whimsical nostalgia for the past, as the smells of breweries and freshly baked Black Forest Cake mingle in the air, mixed with the sounds of the inner-city trams and live musicians busking in the streets. Freiburg im Breisgau is a place where the old meets the new, where age-old tradition meets new-age innovation. The city is known for its proximity to the Black Forest, which spans across an area of just over 6000 square kilometres. Known for its dense, evergreen forests and picturesque villages, it is often associated with the Brothers Grimm fairy tales. It's renowned for its spas and the cuckoo clocks produced in the region since the 1700s. Bordering with the eastern region of France, and the northern region of Switzerland, there is, therefore, an abundance of delicious local foods available – cheese, chocolate, wine, beer, bratwurst, and freshly baked bread. On the other hand, Freiburg itself is simply over- flowing with culture and colour – both international and local. With restaurants and cute stores dotted all around the city, some options for international dining include Japanese, Chinese, Indian, Turkish, French, Thai, American, and Vietnamese restaurants (this is all polished up with plenty of vegetarian, vegan and gluten free options).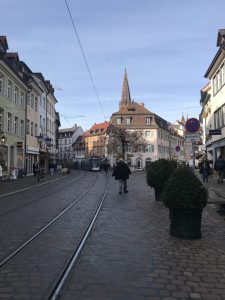 Freiburg is known as one of the most environmentally conscious "Green" cities in the world, having earned the title "The Green City". There are projects running on every urban sector – be it waste management, sustainable energy use in housing, green electricity, reaching Carbon neutrality goals, environmental education, etc. There are more bicycles in this city as there are people, less cars than any other German city, and of course the iconic tram lines that can take a person anywhere you need to go with almost zero Carbon emissions.
For nature lovers such as myself (and probably all students studying International Forestry) there are many places you can go and immerse yourself in dense green areas, with at least 20 different hiking trail options, mountain bike trails, and in the winter months, several skiing or snowboarding routes to choose from. The forest is extremely nearby and accessible to all, and in some forests there are areas for making fires and enjoying a nice barbecue with friends/family. On a cloudless day, it's possible to take a short walk up the nearby hill (Schlossberg) and get a beautiful view of the city glowing orange under a setting sun, alternatively you can take a long walk along the footpath of the Dreisam, or ride your bicycle. Whatever your preference, there is something for you to enjoy!
As far as social life goes, Freiburg im Breisgau is a mixing pot international residence (students and professionals alike), such as myself and my fellow Erasmus Mundus colleagues who have just moved here. We have realised in our first few months here that there is no shortage of nationalities to come across at any given event, get-together or class; as I have easily befriended students from Japan, France, Mexico, Syria, Palestine, USA, Indonesia, Nigeria, and of course Germany too. Everyone seems to have an open mind, and ready to expand their social circles into broader global horizons. Therefore, this city feels constantly at the brink of international expansion, research and development in the climate sector, and student networking on a global scale.
The biggest problem with living in Freiburg, if I must mention one, is the very scarce accommodation. There seems to be much less housing available than there are students! Whether or not this is actually the case, I am not sure, but it is what I have heard much about in my time here, and experienced first hand. The general cost of a room in a shared apartment (what the German-speaking people refer to as "WG-haus") is anywhere from €350 – €1000 / month, depending on size and location. This seems to be the price paid for the popularity of a small old city with a top University. This aspect is dealt with very easily, however, especially if you are an Erasmus international student – for which there are specific housing options organised by the University's International Office. In my case, I decided to try find my own private accommodation, by downloading a very useful app: WG-Gesucht, which basically performs the same function as Airbnb, except for renting rooms on a more permanent basis. The app connects flat-sharers with flat-seekers in various German cities, and allows you to see pictures, prices, and specifications of available rooms/apartments, as well as contact the potential future-roommates to arrange a meeting (either in-person or online). I managed to find a wonderful, spacious and affordable room in Freiburg, right in the city centre. So really there is nothing to fear when it comes to housing scarcity, as there is always something for those who are willing to make the effort to search!
I can highly recommend choosing Freiburg im Breisgau as your next university, and apparently I am not the only one, as the Lonely Planet has just recently nominated this city as one of the top three must-visit cities in the world! See here: "Lonely Planet names Freiburg top travel destination for 2022", Freiburg is recommended just after Auckland (NZ) and Taipei (Taiwan). I look forward to exploring more of this city, and sharing this experience with my fellow students.