I know, I know. During the past months, we all have been occupied by our classes, deadlines, and other commitments. I must say, stress and pressure were over the top of our heads, especially for batch '20-'22, as we're close to finishing this cool programme (with flying colors, I hope!).
Oh and by the way, we had a few breaks in between months! >:D
(read on to know…)
In the beginning of the year, we all thought that the pandemic will give us "2020 feels" again because of lockdowns, curfews, and travel restrictions, and of course, the increasing number of cases, and slow rate of vaccination across the globe. But luckily, around February this year, "corona vee" and vaccinations against it have been doing well . Hence, the consortium gave us a greenlight for our "supposedly month-long fieldtrip" across the different partner universities here in Europe.
I know the previous blog posts have written about the trip but yeah, the European Forestry is one programme you should consider if you are a jetsetter and nature-lover. What sounds better than being able to explore the forests in Europe, right? Well, the programme offers that. We have a month-long field trip to the forests of Europe, and is scheduled at the end of our first year in the programme. Usually, in May, before everyone goes to the applied period.
With Corona-Vee still happening, our trip wasn't month-long. It was modified into a 3-day trip on different dates stretching from February-March-April in each countries, namely Spain, France, Germany, Romania, and Austria, where we have our partner universities in. Believe me, it was the best news in the middle of our agonies. Imagine having separated from your friends in the programme, then having a chance to see them again feels overwhelming in a good way. Reunion! See picture below 😀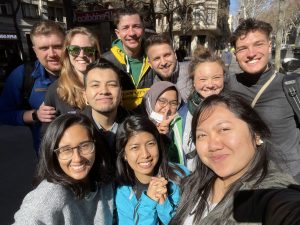 Don't get me wrong, going to this trip doesn't only allow you to travel but allows you to connect with people in the sector, gives you an actual picture of what they had taught in our courses, and lastly, learn things you thought you didn't need. I wouldn't spoil you with the details, eh. 😉
Here are some pictures from Spain and France in February <3
This 10-day trip with the guys is one for the books. Learning about the forests in the Mediterranean region, the management, the different ecosystems, were just very interesting. Although, our France trip was tricky because we thought the cold wouldn't bother us anyway like Elsa. Hahaha!
Now here's another gallery for our Freiburg trip in March. 🙂
We were so lucky to have sunny days in Freiburg. This trip is as awesome as the previous one because we were able to explore the forest ecology laboratory, and it is super cool. Not to mention, we were able to talk to a famous forest owner (Mr. Spiecker)! Ahh, Freiburg was amazing, we enjoyed the sun, and the cherry trees blossom! You would definitely wanna go back!
Despite our trips being stretched in 3 different months with 3 days in each country, I would say it was just perfect for us and still very lucky as it was able to happen. Everyone seeing each other in different places from time to time is just the best feeling because you get to reunite, and take a break, and I think that's beautiful. <3
Anyways! Our upcoming trip for Romania-Austria will happen later this month so stay tuned! 😀
Photo credits to me — Fellice Catelo hehehe
And, if you have any inquiries or anything, you can email me at fcatelo@uef.fi!