Climate Change and International Environmental Law
Climate change has been identified as one of the greatest contemporary challenges and climate change law is rapidly emerging as a specialised field of legal research and practice. The CCEEL team has strong academic and practical experience on climate change law and policy.
Current research interests by the CCEEL team include:
The United Nations climate change regime, including the 2015 Paris Agreement
European Union climate law and policy
Forests and climate change, including Reducing Emissions from Deforestation and Forest Degradation (REDD+) and LULUCF
Short-lived climate pollutants in the Arctic and in developing countries, including China, India, Mexico and Chile
Links between climate change and trade law and policy, including fossil fuel subsidies
The role of non-state actors in international climate change law and governance, including the role of cities
Theoretical aspects of climate change law and governance (global environmental law, polycentric climate governance, new governance, critical international law)
CCEEL researchers are also active in other fields of international environmental law. Their current research interests relate, among others, to trade and the environment, chemicals and human rights.
Research Projects
Research Group Members
Dr Kati Kulovesi, Professor of International Law
Dr Harro van Asselt, Professor of Climate Law and Policy
Dr Harri Kalimo, Professor in Law, in particular Circular Economy Law (part-time)
Dr Seita Romppanen, Senior Lecturer in International Environmental Law
Dr Tuula Honkonen, Senior Lecturer in International Environmental Law
Dr Mikko Rajavuori, Senior Lecturer in International Law
Tuomas Palosaari, Lecturer in International Law
Dr Sabaa Khan, Senior Researcher
Dr Yulia Yamineva, Senior Researcher and Docent in Climate Law and Policy
Dr Pekka Niemelä, Post-doctoral Researcher
Tatu Hocksell, PhD Researcher, Climate Change Law
Sara Kymenvaara, PhD Researcher, Climate Change Law
Veera Julia Pekkarinen, PhD Researcher, Climate Change Law
Reza Maddahi, PhD Researcher, Climate Change Law
Outi Manninen, PhD Researcher, Climate Change Law
Adrian Martinez, PhD Researcher, Climate Change Law
Rosemary Mwanza, PhD Researcher, International Environmental Law
Maria Eugenia Recio, PhD Researcher, Climate Change Law
Eleanor Reyes Mateo, PhD Researcher, International Economic Law (joint PhD with the Vrije Universiteit Brussels VUB)
Patrick Toussaint, PhD Researcher, Climate Change Law
Karl Upston-Hooper, PhD Researcher, Climate Law
Bradlie Luisa Ana Martz-Sigala, Research Assistant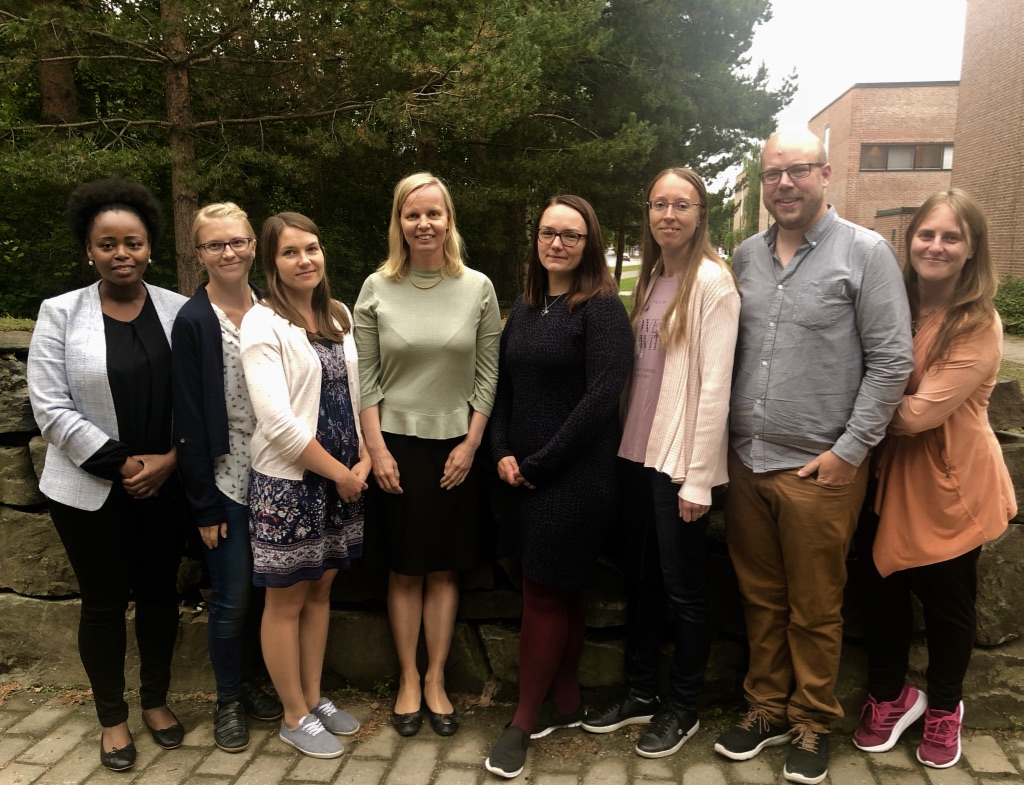 Research Group's Publications in 2016-2018
Climate Change Law
Articles and Book Chapters
Harro van Asselt, Laura Merril and Kati Kulovesi, "Fossil Fuel Subsidies and the Globl Climate Regime," in Harro van Asselt & Jakob Skovgaard (eds.) The Politics of Fossil Fuel Subsidies and Their Reform (Cambridge University Press, forthcoming 2018).
Jacob Skovgaard and Harro van Asselt (Eds.), The Politics of Fossil Fuel Subsidies and Their Reform. (Cambridge University Press, forthcoming 2018).
Sabaa Khan, "Struggles and Actions for Legal Space in the Urban World: The Case of Informal Economy E-waste Workers", Canadian Journal of Law and Society, Special Issue on Transnational Labour Law (forthcoming 2018).
Cleo Verkuijl Harro van Asselt, Tom Moerenhout, Liesbeth Casier & Peter Wooders, "Tackling Fossil Fuel Subsidies through International Trade Agreements: Taking Stock, Looking Forward", Virginia Journal of International Law 58(2) (forthcoming 2018).
Aarti Gupta and Harro van Asselt, "Transparency in Multilateral Climate Negotiations: Furthering Accountability?" (Regulation & Governance, forthcoming 2018).
Harro van Asselt, Andrew Jordan and Dave Huitema, Global Climate Governance after Paris: "Setting the Stage for Experimentation?", in Turnheim Bruno, Paula Kivimaa & Frans Berkhout (Eds.), Innovating Climate Governance: Moving Beyond Experiments (Cambridge University Press, forthcoming 2018).
Susanne Droege, Harro van Asselt, Kasturi Das and Michael Mehling, "Mobilising Trade Policy for Climate Action under the Paris Agreement: Options for the European Union (SWP Research Paper 2018/RP 01, 2018)
Sander Chan, Robert Falkner, Matthew Goldberg & Harro van Asselt, "Effective and Geographically Balanced? An Output-based Assessment Non-state Climate Actions," Climate Policy 18(1) (2018), 24-35. (link)
Seita Romppanen, "Arctic climate governance via EU law on black carbon?" Review of European, Comparative & International Environmental Law (forthcoming 2018).
Yulia Yamineva and Kati Kulovesi, "Keeping the Arctic White: The Legal and Governance Landscape for Reducing Short-lived Climate Pollutants in the Arctic Region and Opportunities for Its Future Development," 8 Transnational Environmental Law 2018.
Jordan, Andrew, Dave Huitema, Harro van Asselt & Johanna Forster (Eds.) Governing Climate Change: Polycentricity in Action. Cambridge, UK: Cambridge University Press (forthcoming, 2018). (link)
Martin,Kowarsch, Jason Jabbour, Christian Flachsland, Marcel T.J. Kok, Sir Robert Watson, Peter M. Haas, Jan C. Minx, Joseph Alcamo, Jennifer Garard, Pauline Riou, László Pintér, Cameron Langford, Yulia Yamineva, Christoph von Stechow, Jessica O'Reill and, Ottmar Edenhofer "A Road Map for Global Environmental Assessments," 7(6) Nature Climate Change (2017). (link)
Harro van Asselt and Kati Kulovesi, "Seizing the Opportunity: Tackling Fossil Fuel Subsidies under the UNFCCC," 17(3) International Environmental Agreements (2017), 357-370. (link)
Sabaa A. Khan, "Global Commons through a Regional Lens: The Arctic Council on Short-lived Climate Pollutants," 6(1) Transnational Environmental Agreements (2017), 131-152. (link)
Yulia Yamineva, "Lessons from the Intergovernmental Panel on Climate Change (IPCC) on Inclusiveness across Geographies and Stakeholders," Environmental Science and Policy 77 (2017), 244-251. (link)
Sara Kymenvaara, "Ending Transport Oil Dependency in the European Union: National Policy Activitye at the Hear of the Transition to Alternative Fuels," 11(2) Carbon and Climate Law Review (2017), 110-119. (link)
Kati Kulovesi, "EU Emissions Trading Scheme: Preventing Carbon Leakage before and after the Paris Agreement," in: Rafael Leal-Arcas (ed.), Research Handbook on EU Energy Law and Policy (Edward Elgar, 2017), 417-431. (link)
Seita Romppanen, "Niin metsä vastaa kuin sinne huudetaan? Oikeudellinen näkökulma metsänieluihin," Ympäristöjuridiikka 2-3/2017, 7. [ "What Goes Around, Comes Around – A Legal Analysis of Forests as Carbon Sinks," Finnish Journal of Environmental Law] (link)
Kati Kulovesi and Joanna Dafoe, "ICAO and IMO: international sectoral approaches to greenhouse gas emission reductions in the transport sector," in: Daniel A. Faber & Marjan Peeters, Climate Change Law. Edward Elgar Encyclopaedia in Environmental Law (Edward Elgar, 2016), 274-285. (link)
Yulia Yamineva, "Climate Finance in the Paris Outcome: Why Do Today What You Can Put Off Till Tomorrow?," 25(2) Review of European, Comparative and International Environmental Law (2016), 174-185.
Kati Kulovesi, Seita Romppanen and Yulia Yamineva, "Introduction to Climate Law's Special Issue on Renewable Energy," 6(3-4) Climate Law (2016), 227-231. (link)
Yulia Yamineva, "Climate Policy in Russia," in: G. Tiess & al. (eds), Encylopedia of Mineral and Energy Policy (Springer, 2016). (link)
Policy Briefs and Reports
Verkuijl, Cleo, Harro van Asselt, Tom Moerenhout, Liesbeth Casier & Peter Wooders (2017). Tackling Fossil Fuel Subsidies through International Trade Agreements. London: Climate Strategies. (link)
Harro van Asselt, Climate Change and Trade Policy Interactions: Implications of Regionalism. OECD Working Paper 2017/03. Paris: Organisation for Economic Co-operation and Development. (link)
Yamide Dagnet, Harro van Asselt, Gonçalo Cavalheiro, Marcelo Theoto Rocha, Alice Bisiaux & Nathan Cogswell, Designing the Enhanced Transparency Framework, Part 2: Review under the Paris Agreement (Washington, DC: World Resources Institute, 2017). (link)
Kati Kulovesi, Antto Vihma, Anna Laine, Majella Clarke, Karl Upston-Hooper, Roland Magnusson and Mika Sulkinoja, Results of the Paris COP 21 Climate Negotiations. Report Prepared for the Finnish Ministry of the Environment. January 2016.
Anna Laine, Majella Clarke, Tommi Ekholm, Roland Magnusson, Tomi Lindroos, Hanna-Mari Ahonen, Kati Kulovesi, Oras Tynkkynen and Ossi Kasurinen, Implementation of the Paris Agreement and Tasks to develop its rulebook, Report Prepared for the Finnish Prime Minister's Office, Government Analysis, Assessment and Research Activities 62/2016, December 2016. (link)
Trade and Environment
Kati Kulovesi and Sabaa Khan, "Environmental Principles in Trade Relations," in: Ludwig Krämer and Emmanuela Orlando (eds.), IUCN Encyclopaedia on Principles of Environmental Law (forthcoming, 2018).
Kati Kulovesi, "International Trade: Natural Resources and the World Trade Organization," in: Elisa Morgera and Kati Kulovesi (eds.), Research Handbook on International Law and Natural Resources (Edward Elgar, 2016), 46-65. (link)
International Environmental Law